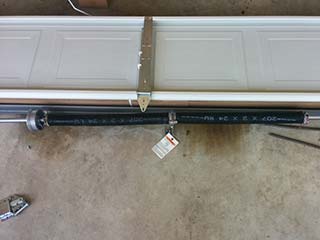 A garage door failure can ruin your entire day. Few things throw your plans into chaos like finding out at the last second that you won't be able to get your car out. If a garage door suddenly stops working, the most likely cause is a broken spring. Replacing a faulty garage door spring doesn't take very long, but it does require specific tools and materials, and it's dangerous to attempt without professional training. Lucky for you, our Andover area garage door spring technicians are on call every single day of the year. If you need a broken spring replaced, we'll get it done quickly and at a low cost.
Broken Garage Door Springs Cause Serious Problems
Sometimes a garage door will still be able to open with one of its springs broken. However, we wouldn't recommend doing it! A garage door is heavy, and the purpose of the springs is to counterbalance their weight so that the opener and cables can handle it. Forcing your opener to deal with all that weight directly will damage it, and could leave you with a much more expensive problem than broken springs. Worst case scenario, a lift cable could snap while you're using the door, letting it fall on whatever or whoever is underneath at the time! Don't open a garage door with broken springs unless it's an absolute emergency. Leave it alone, and get new springs as soon as possible.
Spring Replacement – a Job For Experts
Garage door springs operate under very high pressure, and it's dangerous to handle them if you don't know exactly what you're doing. Thousands of serious injuries happen every year because of amateur broken spring replacement attempts. Springs can fly off, lash out, or snap and release fast-moving shards, and anything strong enough to lift a garage door can also put you in the hospital. If a spring breaks, take advantage of our Andover garage door professionals to save yourself money, time, and effort.
Top Spring Replacement Services Near Andover
This team has been replacing broken garage door springs for over a decade, and you can rest assured they'll deal with yours quickly and safely. With our everyday repair and replacement services and fast response, you can count on reliable troubleshooting that keeps the consequences of your spring breaking to a minimum. Call to have our Andover broken spring repairmen on the way to your local address ASAP.