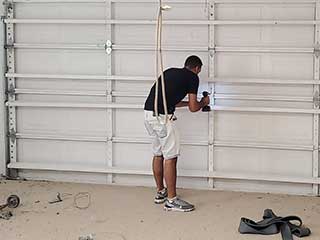 Any type of problem that makes it harder to use the garage door needs a quick fix. With specialized services targeted at emergencies, Garage Door Repair Andover gives you recourse whenever some type of problem comes up. You can call us to have broken springs replaced or because suddenly the garage door opener remote isn't working. It's up to you. Our professional technicians will solve whatever garage door problem needs repairing on the double.
Garage Door Spring Replacement For Andover Area
An annoying problem to have, no doubt, but a common one too. Perhaps the most common. A broken garage door spring requiring replacement is one of the most frequent service calls we receive. As the main pulley system muscles, the springs on your garage door are responsible for the movement of the panels. That means lots of wear over a long period of time, and shorter lifespans the more you use the door. As the local team for quick broken garage door spring replacement in Andover, we make an effort to offer quick solutions whenever possible. Our commitment to customer satisfaction led us to provide same-day broken spring repairs every single day. Need help with a spring that broke? Get it replaced right away!
Garage Door Opener Remote Not Working
Whether it's a receiver, logic board, or something else, our professional opener remote reprogramming and troubleshooting services are available to you. We know how annoying and frustrating it feels to have a garage door not open when you need it. And if you're in a hurry, the frustration becomes doubled. LiftMaster garage door opener troubleshooting is one of our specialties, as well as problem-solving for Genie, Chamberlain, and other popular brands. We replace opener parts, including gears, drive system trolley, and other pieces. Finding the source of the problem is half the battle, after all. Should you need garage door opener repairs nearby Andover, we deliver quick troubleshooting and fixes every day. It's important to know who to call so you can have unexpected issues solved quickly.
Local Garage Door Repairmen Near You
Whether something broke or just isn't working, our Andover garage door repair technicians are at your service every day. From replacing broken springs with new ones to troubleshooting LiftMaster openers to repairing garage door tracks and panels. Any quick repairs you need, our local specialists have the experience and skill to perform. Contact us for quick and inexpensive garage door repair services for emergencies or other!